Outdoor public pools are back at full capacity across the five boroughs, and as swimmers return, so do a host of regulations and negotiations. There are the familiar pool rules (no running), the less obvious edicts (only plain white shirts and hats allowed on the deck), and more recent additions to official decorum, such as mask mandates (though not while in the actual pool). Then there are the usual conflicting uses — say, lap swimming versus the "floatie" crowd — which may prove to be more difficult to navigate this year, as lifeguard shortages have led to the cancellation of all swim programs for the season. But historically, pools have served as a backdrop for more salient social tensions, and their design and distribution across the city reflects larger political paradigms and aspirations. In the second installment of a mini-series exploring the undercurrents shaping public pools in New York City, Karolina Czeczek — with the help of two urban historians and a former Parks Commissioner — tells the story of their proliferation over the last century, in fits and starts. From the Olympic-sized ambitions of Robert Moses, to the "tactical" interventions under Mayor John Lindsay, to the equity- and sustainability-informed agendas put forth by contemporary renovations and new proposals, public pools have borne witness to a relationship between infrastructure and culture that has proven to be as slippery as the edge of the deep end itself (remember: no running).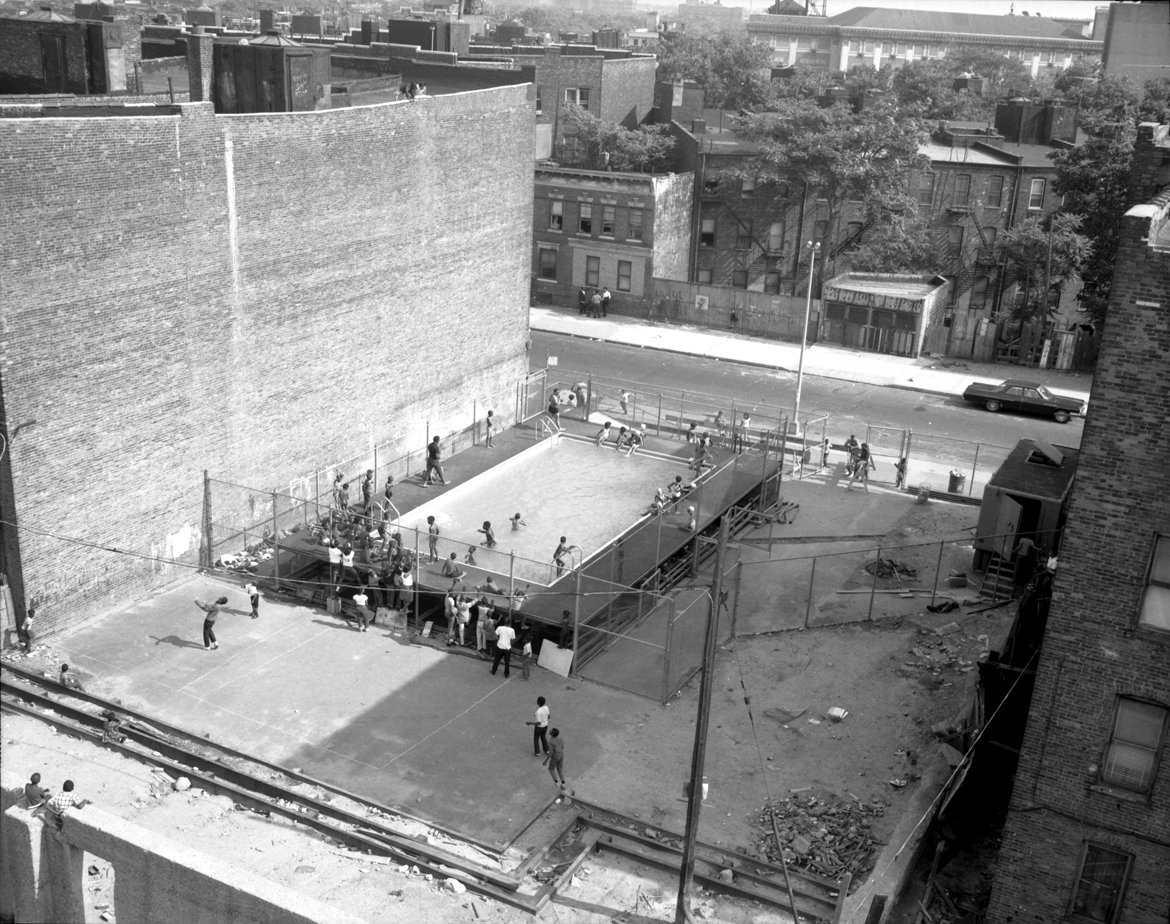 A portable pool installed in a vacant lot on Sterling Place in Brooklyn, 1967. Photo by Daniel McPartlin, courtesy of the NYC Parks Photo Archive

The New York City Department of Parks and Recreation (Parks) operates 65 public pools located throughout the five boroughs. Ranging from outdoor, Olympic-size structures to miniature and vest-pocket-sized sites and indoor facilities, these pools are invaluable public spaces — and often notable works of architecture in their own right. For more than a century, the city's pools have doubled as both recreational facilities and infrastructure for keeping cool. This seemingly neutral network of recreational facilities has also served as a backdrop for both celebrations and disputes, reflecting larger dynamics around class, gender, and race, equitable access to public space, and public health. What can we learn from the contested history of the city's public pools? Where does the pool fit within a broader exploration of the challenges around inequality, climate change, and resilience facing the future of cities?

New York City has seen two major periods of pool building, shaped by both the social forces and significant political figures of their times. Facilities from both eras still reflect these legacies, even as contemporary challenges and ideas present new possibilities for these now historic spaces.


An inventory of New York City's 53 outdoor and 12 indoor public pools. Two sites — Asser Levy Playground and Recreation Center, and Tony Diapolito Recreation Center — feature both an outdoor and indoor pool. Image by Karolina Czeczek/Only If Architecture

Pools in former bathhouses (1888-1936)


Works Progress Administration pools (1936)



Mini-pools (1968-1969)



Vest-pocket (and three larger) pools (1970s)

On July 2, 1936, thousands of New Yorkers attended the opening of Astoria Pool, with appearances from Mayor Fiorello La Guardia and Parks Commissioner Robert Moses. The pool, designed by John M. Hatton, was the largest of eleven public swimming facilities opened across New York City that summer. Built with funds from the Works Progress Administration, as part of the New Deal's sweeping investment in infrastructure, the pools reshaped the urban landscape. Since 1870, New Yorkers had relied on floating pools in the East and Hudson Rivers, public bathhouses, and natural bodies of water to maintain personal hygiene, do laundry, cool off, and swim. But the practical, everyday functions of public bathing facilities began to fade as private bathrooms became increasingly common in private residences. Moses's pool-building ambitions departed from these earlier facilities' utilitarian role, instead providing space primarily for safe swimming, social gathering, and much needed recreation. These large, Olympic-size complexes also accommodated other uses, from indoor sports to performances, and were equipped with the latest cleaning, heating, and lighting systems. They created a new kind of public architecture, reflecting progressive policies and an evolving approach to recreation and gender integration in public space.


Astoria Pool in 1936. Photo courtesy of the NYC Parks Photo Archive

This pool building spree also democratized access to public swimming, to a degree. Pools became "social melting pots" and places to be seen. However, while modern pool facilities allowed for mixing of different classes and genders, they also amplified racial prejudice in society. Robert Moses followed a "separate but equal" approach to siting pools, distributing facilities across different, racially segregated neighborhoods. Marta Gutman — a historian, architect, and faculty member at the CUNY Graduate Center and Spitzer School of Architecture at the City College of New York — provides a nuanced analysis of the complex policies and motivations behind this era of pool expansion:

The decision to build the pools was made very early in the formation of the Parks Department. Fiorello La Guardia was elected in an off-year election, and Robert Moses was installed as Parks Commissioner almost immediately. By January 1934, a city-wide Parks Department was formed, with a new ambition of thinking of the city as one thing, not as five separate boroughs. Sites for pools were chosen based on where there were already small parks that had been built as part of a Progressive Era reform project. These parks were basically early results of slum clearance, in which tenements and warehouses and factories, located particularly along the waterfront, were cleared to make places like Jefferson Park, Hamilton Fish Park, Seward Park, DeWitt Clinton, and McCarren Park. The land was available, and the addition of the pools augmented and modernized parks that needed attention.

Moses had a strong interest in making the city's water cleaner, and he built sewage plants to make that happen. These were contemporary, modern water facilities that were installed across the city, even in working-class neighborhoods. There was never a thought that water in the city's rivers would get clean enough for people to swim in it. That wasn't Moses's goal either. His goal was to make the pools so attractive and so compelling that people would prefer to use them for swimming.


Opening of the Sunset Park Pool, 1936. Photo courtesy of the NYC Parks Photo Archive

In the context of New Deal politics, what happened in New York was atypical, because facilities of the same quality were built in every neighborhood. The Colonial Park pool (in Harlem) was built to exactly the same quality and standard of improvement as Jefferson Park Pool (in predominantly Italian-American East Harlem). I don't know of any other city in the United States where the facilities that were built in Black neighborhoods, if there were any built at all, were of the same quality as the facilities built in white neighborhoods. We can't dismiss that. That's a point of difference.

I think Moses could have said, "I stand for racial integration, and I'm going to do everything I can to implement policies that make it the state of policy of the Parks Department." He didn't do that, and in my article

"Race, Place, and Play,"

I cite the law that he uses as his justification. He argued, that, "I can state it, but if the will of the people isn't such that they want racial integration, then I can't do anything about that." That was his position on it. Moses believed that forcing integration on unwilling people is a really difficult proposition. We still haven't figured out how to answer that question. It requires a lot of compromise and a lot of bending and a lot of political ambition on the part of the American people that the American people have, so far, not shown to be too willing to express.

Could you have located the pools, so they sat at the intersection of neighborhoods, as opposed to deeply within them? Yes, you could have done that, and therefore, by virtue of location, pools would have worked as magnets to bring different groups of people together. That would have required buying property, clearing land, engaging in a clearance proposition that would have delayed the project. The decisions about pool siting, based on decisions about public parks that were made 30 or 40 years before the pools were even built, ended up cementing and ingraining existing social constructions of space in neighborhoods rather than reconfiguring them.


Betsy Head Pool, circa 1946. Photo courtesy of the NYC Parks Photo Archive

For me, the politics of location are a huge question. We know that there were ways in which children and young people were challenging restrictive boundaries that their parents placed on them, and that they were trying to forge new social groupings and not be caught up in the identities that were being imposed on them by family, by their parents. We also know that there was conflict between kids of different races. But one way to think about how to create politics of tolerance in a broader community is to consider ways in which recreation can be organized to create connections, rather than enforce separations.

Looking through the lens of gender also exposes a hugely empowering agenda that was happening at the pools. In many immigrant families, gender norms constrained young girls and kept them tied to domestic duties. To have the pool just a few blocks away, to be able to go jump in, and get out of a house, was very important. It was also a way for young women to learn how to navigate a new self and to navigate public space and to take control of their life and free themselves of the patriarchy that was being imprinted upon them daily at home. I think one of the reasons that New Yorkers, in general, become so obsessed about race and pools, is precisely because that's where young women were taking charge of their own lives and navigating their romantic and sexual relationships without their parents watching over their shoulders. We can consider the pool as a site of feminist awakening.

The Moses pools endure because they involved huge capital investments that lasted. Smaller and mobile pools are easy to lose track of; they require a different infrastructure. What I would see as a critical insight is that both kinds of infrastructure, whether small or large, in-ground or mobile, above ground or not, need to be maintained. We've given a lot of attention in our thinking about infrastructure to the initial investment; we give very little attention to thinking about the maintenance and operations that are critical to sustaining them.



Sunset Park Pool, 2019. Designed by Aymar Embury II, Sunset Park Pool underwent an extensive restoration in 1984. Photos by Anna Morgowicz




Astoria Pool, 2019. Designed by John M. Hatton, Astoria Pool hosted the Olympic Trials for the US Swim and Diving Teams in 1936 and 1964. The pool was designated a New York City landmark in 2006 and renovated in 2019. Photos by Anna Morgowicz




Highbridge Pool, 2019. Designed by Aymar Embury II and landscape architect Gilmore D. Clarke, the pool is located on the site of a former water reservoir. In 2007, the facility was designated an official New York City landmark. Photos by Anna Morgowicz


The second pool building era in New York City occurred after Moses's fall from grace and the election of John Lindsay as mayor in 1966. Compared with WPA-era facilities, public pools built in the late 1960s and 1970s differed significantly in form, size, and distribution. Lindsay's administration built more than 90 swimming pools throughout the city, along with new public plazas and playgrounds. The first of these pools were portable structures that could be dismantled and moved to other parts of the city; they also took the form of "swimmobiles," or pools mounted to trucks that would circle around neighborhoods in Brooklyn, Queens and the Bronx. This initial campaign was a response to a scarcity of water facilities and cooling infrastructure in underserved areas.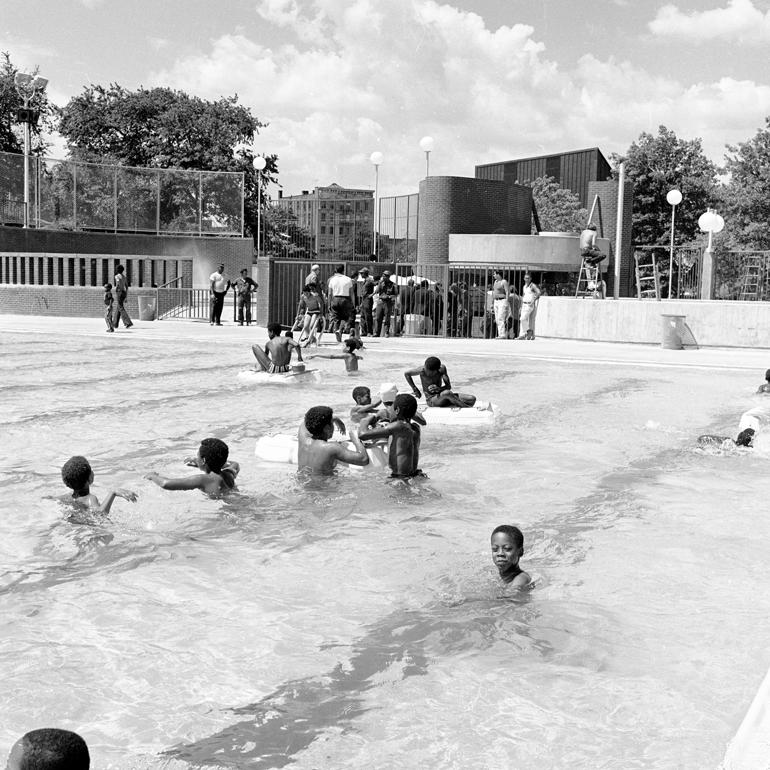 The dedication of Marcus Garvey (formerly Mount Morris) Pool, 1971. The pool and bathhouse were designed by Percy Ifill and Conrad Johnson. Photos courtesy of the NYC Parks Photo Archive

The city subsequently began to install more permanent structures. Mini-pools — with completely standardized dimensions of 20′ x 40′ x 3′ — were built on vacant lots in neighborhoods suffering from disinvestment. Although ambitious in regards to their numbers, fast deployment, and strategic reuse of existing vacant space, the mini-pools were too small for swimming and not equipped with changing rooms. Their construction was quickly phased out, and the city started to build larger, "vest-pocket" pools in the early 1970s. These units featured uniformly sized swimming and wading pools (75′ x 60′ x 3.5′), but were arranged in different ways depending on the site. Vest-pocket pools were often located next to, or within, parks in densely populated areas without access to other recreational facilities. Larger pools constructed during this time include Kosciuszko Pool in Bedford-Stuyvesant, designed by Morris Lapidus, and Marcus Garvey Park Pool in Harlem, designed by Percy C. Ifill and Conrad A. Johnson. Mariana Mogilevich — author of The Invention of Public Space: Designing for Inclusion in Lindsay's New York, and editor in chief of Urban Omnibus — provides a more extensive assessment of Lindsay's approach to providing more equitable access to water and public space:

As Parks Commissioner, Robert Moses was well known for a massive expansion of New York City's public realm, meaning new pools, comfort stations, beaches, playgrounds, and parks. But when you look at where it is located, you don't necessarily find a fair distribution. And you don't find nearly as many of those kinds of amenities, considered part of the privileges of urban citizenship, in neighborhoods that are predominantly Puerto Rican or African American. So even though there was this expansion of the public realm, it was partial. The civil rights movement would force a reckoning with this by the early 1960s: Who's included in that public? There are first-class and second-class citizens — everyone doesn't get the same rights and privileges. The state of people's streets and parks spoke directly to that. Along with policing, and education, and the abominable state of housing in neighborhoods of color, they are the building blocks of a society that is separate and unequal. These conditions were being called out by liberal reformers, radical social movements, and of course are behind the decade's racial rebellions.

When we talk about the "hot summers" of the 60s and 70s, the pools were meant to help literally and figuratively keep the city cool. Lindsay's administration put together these urban action task forces, which involved having people who can deploy to different neighborhoods, and when things get tense, to defuse potentially violent situations, and also funding all manner of cultural and recreational activities. The way that I would look at the pools is that so many of these interventions fall under the heading of "crisis management," or basically "anti-riot strategy." And indeed, New York City did not see the kind of violent confrontations and property damage we associate with the uprisings in Newark, Detroit, and so many other cities.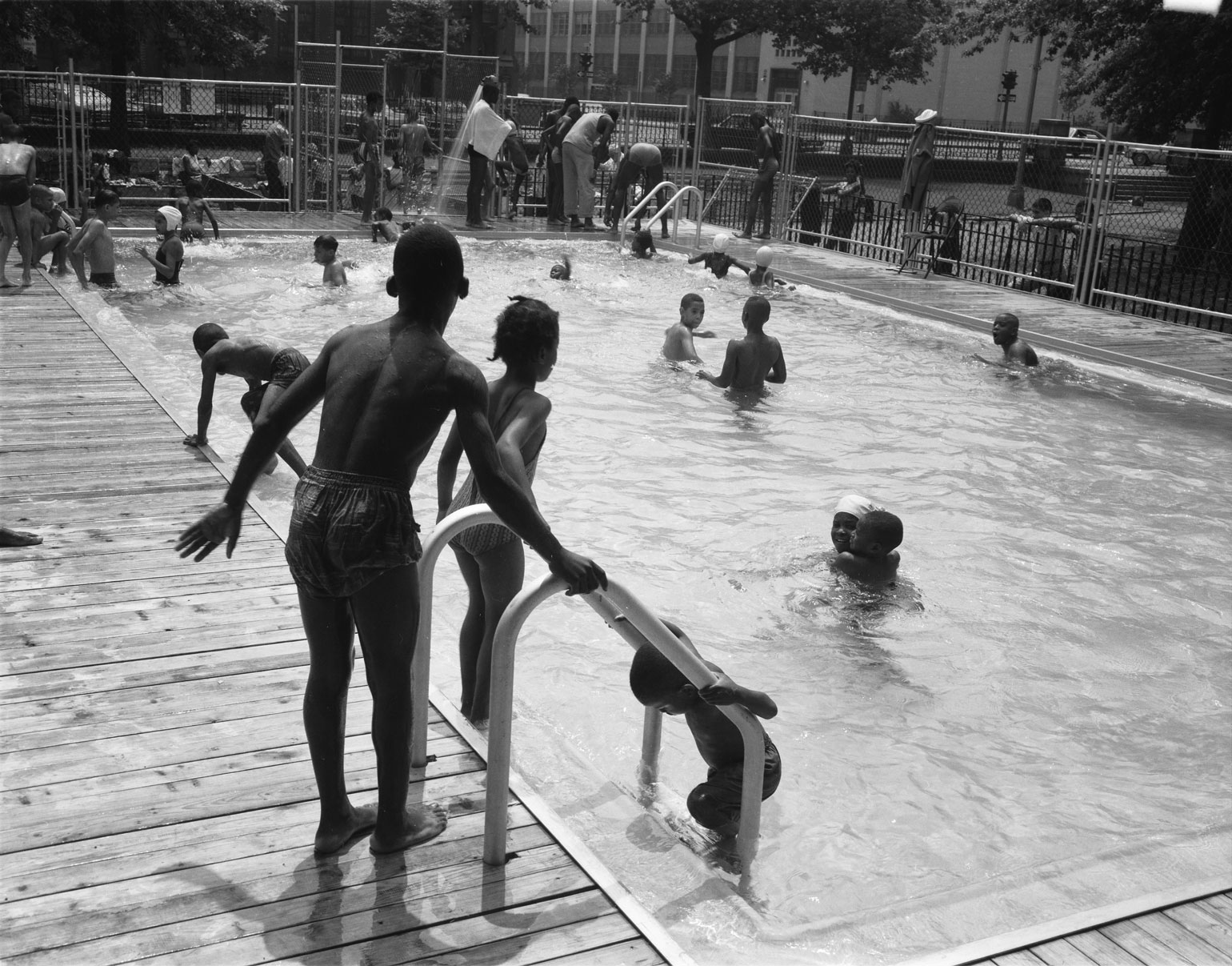 A portable pool in Marcus Garvey Park, 1967. Photo by Daniel McPartlin, courtesy of the NYC Parks Photo Archive

In the first years of Lindsay's administration, there was a real focus on deployable mobile pools. Building hard infrastructure takes a lot of time and money. Saying "Hey, we're here, we hear you, the city is paying attention and providing resources; this is literally on your block and can make up for those deficiencies in different neighborhoods" was an important strategy, politically and spatially. That's why you see a pool literally thrown on the back of a truck and brought to a site for a weekend. The same strategy was applied to concerts, plays, and other programming. It was pragmatic, and performed a kind of social inclusion, but also brought material improvements. There were a lot of experiments in new and improved public spaces; there was a lot of spending on cultural and recreational programming across the city, and not just in the places (predominantly white) that had been funded before.

A swimmobile, date unknown. Photo courtesy of the NYC Parks Photo Archive

The small scale of these interventions was about getting things into neighborhoods at the scale of the block — decentralizing and redistributing and getting things to where they haven't shown up before. With the vest-pocket designation, a trend emerges: There was vest-pocket housing, there were vest-pocket parks, vest-pocket pools; you could have a vest-pocket anything. It was faster and cheaper to build and avoided the large-scale demolition and displacement associated with urban renewal projects. Today we might call it "tactical urbanism." It was responsive, and distributed, and there were a lot of good ideas tested at the time, but a lot of it didn't survive when the vision of an expanded, inclusive public realm was replaced by a politics of fear and austerity by the mid-1970s.


Commodore Barry Pool, 2019. Photos by Anna Morgowicz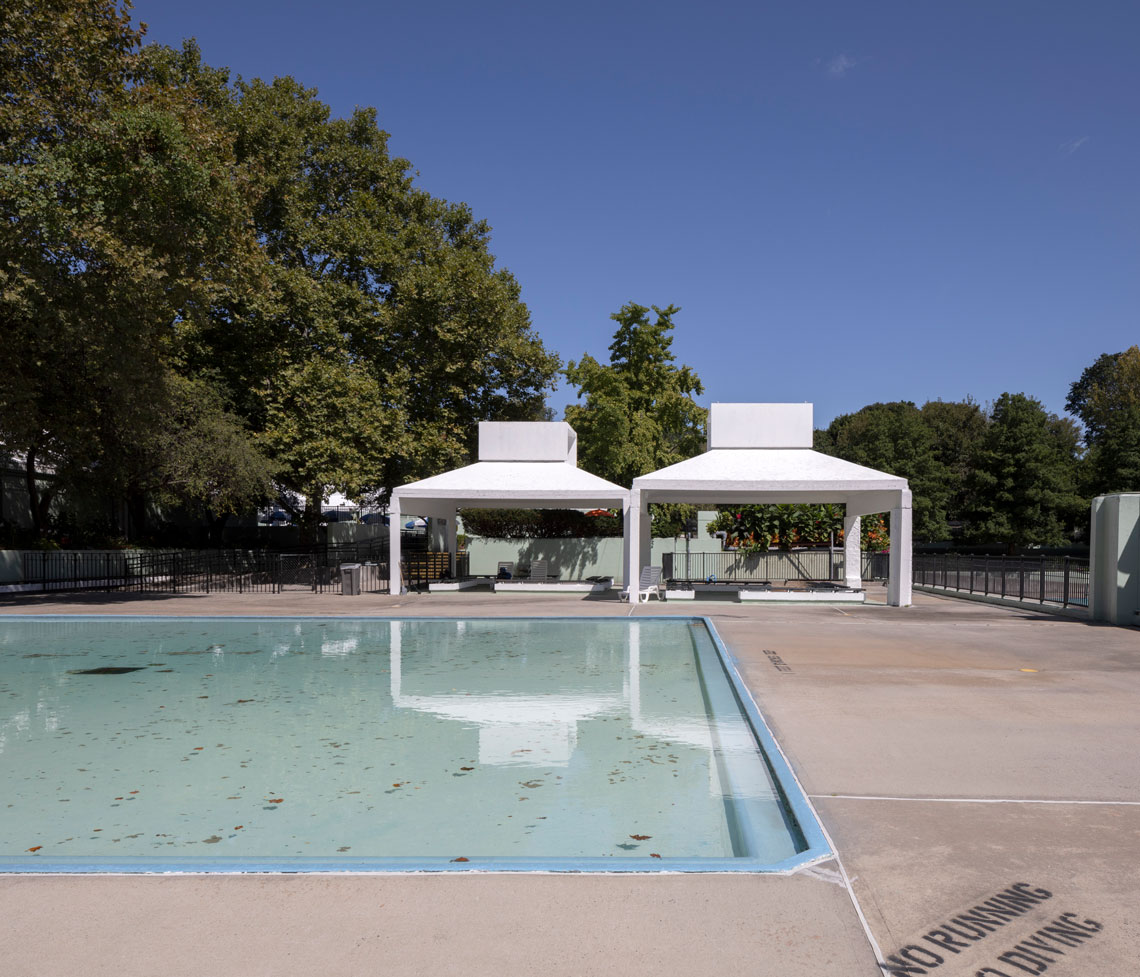 Van Cortlandt Pool, 2019. Photos by Anna Morgowicz


It was not until 1964 that Title III of the Civil Rights Act legally desegregated public facilities, including pools, and not until 1968 that the Fair Housing Act legally banned housing discrimination in the United States. These policies exacerbated the retreat of white populations from public swimming facilities to backyard pools and private clubs. In her recent book The Sum of Us, Heather McGhee describes the extreme example of the municipal recreation department, zoo, and public pool in Montgomery, Alabama all being shut down or closed following court-enforced desegregation of the city's recreational facilities in 1959: "The council decided to drain the pool, rather than share it with their Black neighbors. Of course, the decision meant that white families lost a public resource as well." Urban pools and other public facilities across the country fell into disrepair. While federal policies subsidized construction of segregated suburbs, they withdrew investments from public infrastructure in US cities and their "majority minority" populations.

Lindsay's administration was the last to build a significant number of pool facilities in New York. All the city's WPA-era and vest-pocket park pools survive to this day, but similar dynamics as those described by McGhee led to the closure of the McCarren Park Pool in 1984. After a period of abandonment and threats of demolition, local artists brought the pool back to life through live performances, paving the way for its eventual reuse as an open-air concert venue until 2008. The pool was landmarked in 2007, renovated, and reopened for swimming in 2012. Adrian Benepe, the Parks Commissioner under Mayor Bloomberg responsible for overseeing the renovation and reopening of McCarren Park Pool, describes the process:

The first discussions about renovating the McCarren Park Pool were circulated in the late 1970s, when I was the press secretary for Mayor Koch. At the time, the McCarren Park Pool area had a very different demographic from today. It was dominated by mostly Polish and Italian immigrants, who were not open to swimming with neighbors from nearby African American and Dominican communities. So, plans to renovate the pool didn't go too far. But when I became the Parks Commissioner, the idea of renovation gained new traction. By then, the area's demographics had shifted, welcoming a significant number of "yuppies" who saw the pool as an asset rather than a threat. A few years and 50 million dollars later, the pool was open again in 2012. A redesign by Rogers Marvel Architects decreased the pool's original size, but also expanded programming for year-round use, including an ice rink (which has since shut down).

With moderate pool attendance and more contemporary state safety requirements that define pool staffing numbers, the Olympic-size WPA-era pools are difficult facilities to maintain and operate. However, they are an indispensable public asset, both in terms of public space and public safety. After the WPA era pools were constructed, a study commissioned by the Parks Department showed a sharp decline in drownings in New York City. Led by that example, in addition to renovating the physical pool infrastructure, our administration invested in education and swimming classes through the "Swim for Life" public program for second graders. With the closure of pools, beaches, playgrounds, and spray showers in 2020 due to Covid -19, I saw people once again swimming in unprotected natural bodies of water for cooling and recreation. It brought back a concern for public safety.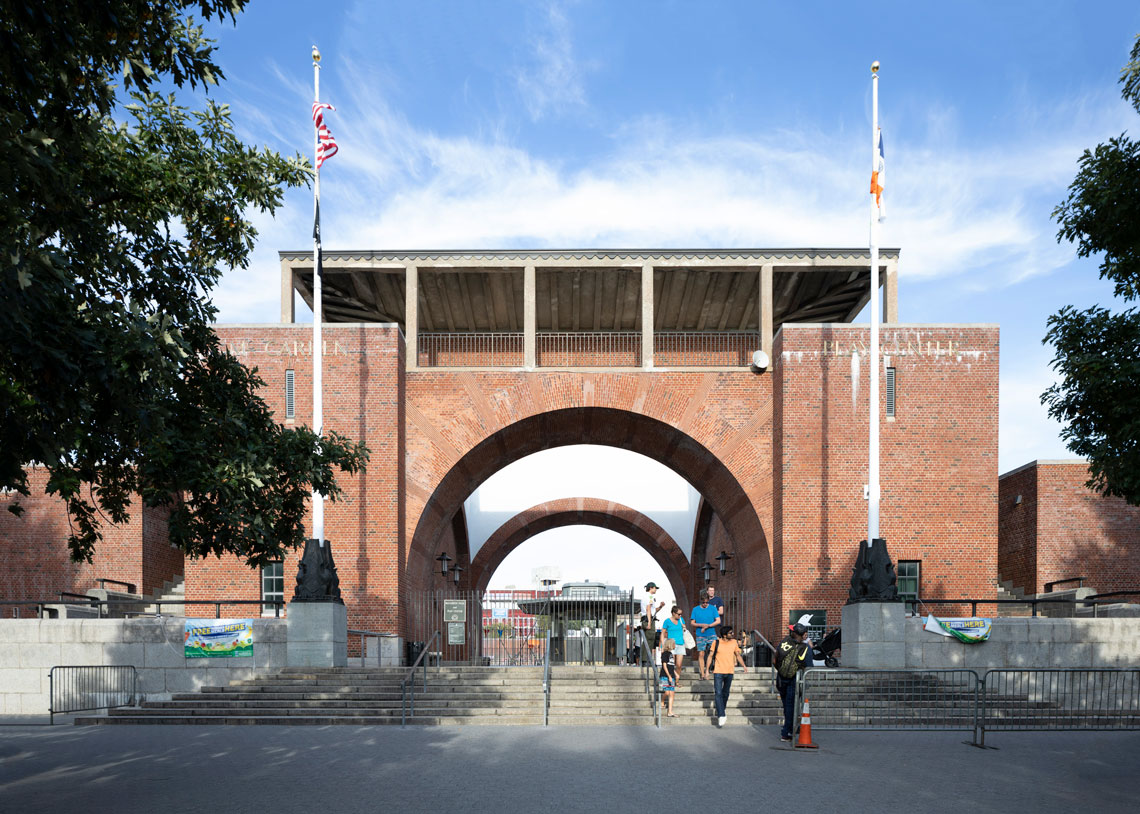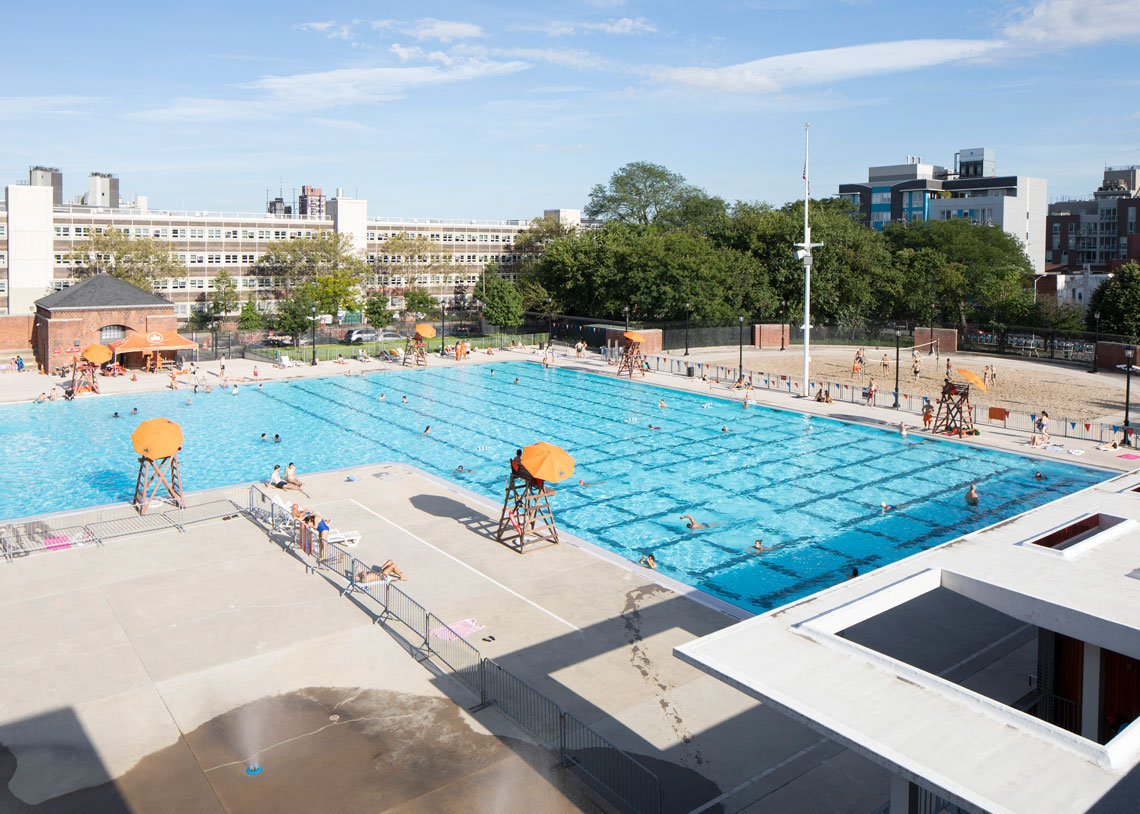 McCarren Park Pool, 2019. Photos by Anna Morgowicz

The last public pool built in New York City was the Floating Pool Lady, an initiative of planner Ann L. Buttenwieser and The Neptune Foundation inspired by historical floating baths. After docking at several temporary locations along the Brooklyn riverfront, the pool — which is built into a retrofitted barge — has found a permanent, summertime home in the Bronx since 2008. In 2018, the Parks Department initiated the "Cool Pools" program, which involved the renovation of selected vest-pocket park pools that had not been significantly upgraded since the 1970s. Renovations were accompanied by the addition of shading, sitting, and planting elements — along with free poolside activities, including games, sports, arts and crafts, and fitness classes — to encourage attendance during the hot season. More recently, the City's Economic Development Corporation has given permission to proceed, with due diligence, on the construction of +POOL, the result of a ten-year campaign supported by non-profits, private individuals, and public authorities to build a floating swimming facility on the East River. The +POOL is designed to filter river water, ensuring safe swimming conditions while accommodating a range of ages and uses with areas for Olympic-length lap swimming, sports, lounging, and children.
A rendering of +POOL. Image by Luxigon. Courtesy Friends of + POOL
The history of public pools in New York traces a reciprocal relationship between architectural invention and policymaking. In light of the recent, and hopefully receding, Covid-19 crisis, along with the growing and interconnected impacts of inequality and climate change, pools have new, critical roles to play in the urban environment. Pools can take on novel functions, whether through adjustments to their physical footprint or expanded programming. Facilities that operate only a fraction of the year could open their doors to other functions and users during off-season times, offering more permanent space for social gathering, education, and health. And with every summer seemingly getting hotter than the last, the need for expanded water infrastructure will be critical for making sure New Yorkers can continue to keep cool when it matters most. Such overdue changes require an integrated social and spatial approach to addressing both the immediate and long-term needs of the communities that public pools serve.



Comments from Marta Gutman, Mariana Mogilevich and Adrian Benepe have been adapted from interviews conducted by the author.